One particular channel in which to drive development and interest in alternative fuel source vehicles is commercial, as companies like to lease vehicles like these to perhaps cut down fuel costs and also show their commitment to a greener tomorrow. Nissan is now leasing a fuel cell vehicle to Coca Cola's Sacramento bottler along these lines for one year.
The X-TRAIL Fuel Cell Vehicle (FCV) being leased to Coke "is being used by the bottler for sales calls and public events in the Sacramento area in promotion of its Coca-Cola Zero soft drink." Nissan says this FCV is built upon its X-TRAIL SUV, currently available in Mexico, Japan and Europe. It has been outfitted with a compact fuel cell stack, a compact Lithium-ion battery and a high-pressure hydrogen storage cylinder. Performance is said to be "close to that of a similarly sized internal combustion engine-based vehicle."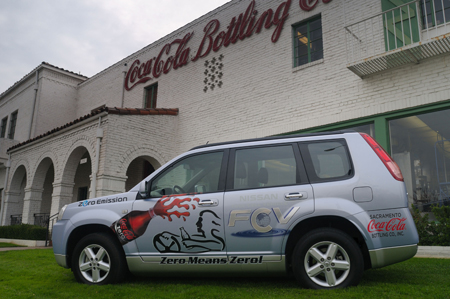 Nissan says "versions of this generation X-TRAIL FCV are capable of speeds in excess of 95 miles per hour, with a cruising range of up to 300 miles." Other FCVs tested internally in the Sacramento area have already logged nearly 300,000 miles in ongoing internal tests, with one vehicle very close to the 100,000-mile mark. Coke has an option on a second year on the lease if it so desires.
Nissan X-TRAIL FCV [via press release]