Move over, 3D printing. So long, tiny-house movement. There's a hot new trend in the green building universe, and it's going to be hard to beat in terms of resource conservation and energy reduction: Augmented reality (AR), a.k.a., "don't build anything at all." The question, however, is whether it makes any practical or economic sense.
Chinese e-commerce site Yihaodian, is embracing this virtual technology that merges smartphone GPS capability, online shopping convenience and real estate speculation to create "stores" without having to mix any mortar or lift a single brick. Rather than having roofs and walls, these stores could be located in vacant lots, open plazas or empty warehouses.
The difference between AR stores and shopping on, say, Amazon or eBay, is that customers must be in specific locations to view the virtual item selections on their digital devices. Customers would then stroll these spaces, holding their phones at eye level to "see" the virtual items and click on the ones they want to be shipped to their homes via standard e-commerce checkout systems.
Currently, Yihaodian plans to roll out this service, called Unlimited Yihaodian, in 1,000 locations across China, using mostly vacant, open-air lots. Once set up, the store locations would be arranged with nearly 13,000 square feet of virtual aisles and shelves that can be viewed via iPhone and Android apps.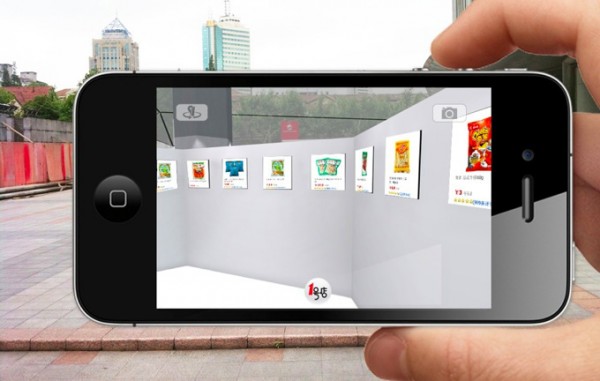 We've seen some of this before, of course, with digital "heads-up" displays in cars and the advent of the black-and-white QR codes (for "quick response") that can be scanned by digital devices. With AR, though, there is no need to attach QR codes to anything. With Unlimited Yihaodian, the location itself is the key to using the system, which can help add value to what previously was cheap or worthless real estate. Plus, the cost of building and running these "stores" would be virtually nil – no construction crews needed and no employees, either. Talk about a small carbon footprint.
The idea, while undeniably interesting and seemingly eco-friendly, poses some immediate head-scratching questions. First of all, why would people schlep all the way to a physical location, potentially using fossil fuels if they drive, to buy something they can easily purchase online from their couches? The items would still have to be shipped to their homes, so there would be no reduction on energy used or CO2 emitted in transportation.
Another fundamental issue is the weather. Yihaodian seems focused on the "vacant lot" model to save on real estate costs, no doubt, but what if it's raining or snowing? Or just plain cold? Do they really expect customers to stroll, shivering, through vacant lots in the middle of a blizzard or a thunderstorm, holding up digital devices under their umbrellas? Isn't this why we have roofs on brick-and-mortar stores?
Over the next few months, many of these augmented reality questions will be answered as Unlimited Yihaodian rolls out in various pedestrian-friendly locations in Shanghai, Beijing, Guangzhou and Shenzhen. Customers, the company said, will be able to selection from up to 1,000 food products in each store, which can be delivered to their homes within two days.