Most of the gains from green building come from rational, scientific thought about the messy business of laying a foundation and getting your hands dirty at a work site. But on this Ash Wednesday at the start of Lent, we thought we'd look at one of the loftier goals of sustainable architecture: to satisfy the spirit as well as the mind and body.
In the lush, tree-lined campus of the University of North Florida (UNF) in Jacksonville, architecture firms Brooks + Scarpa and KZF Design have submitted their plans for a modern house of worship that looks more like a flowing wedding gown than a fixed structure. With and undulating, swooping cool roof that reflects excess heat and draws in breezes from the subtropical climate, the building is as green as it is gorgeous to behold.
The 7,000 square foot Interfaith Chapel, scheduled to be completed on the UNF campus later this year, contains some subtle Christian iconography, but will welcome a wide range of religious services, student ceremonies, weddings, lectures, meditative practices, musical performances and other campus events.
The most striking aspect of the design is the curved roof, to be made of a wood lamella truss system initially developed for warehouses that require long uninterrupted spans, the Brooks + Scarpa architects explained. Structural spans and individual laminated members are connected via a pattern of intersecting diagonal lines, which form a vaulted roof structure in an "egg-crate-like pattern." The roof swoops down to the ground in strategic points to provide support.
Most of the weight of the roof is supported by this grid structure, freeing up the sides of the building to use mostly glass, letting in plenty of natural light for daytime services, including views of a nearby lake and gardens. The tall spire also culminates in a figure-8 pattern skylight that allows more filtered light to fall onto the altar.
The UNF church contains a number of passive energy-efficiency measures, including orientation to provide the maximum amount of shade on the south and western parts of the building during the day and limit solar gain throughout the interior. Openings on the roof and sides of the structure are also positions to capture the prevailing breezes in the area, helping to keep visitors naturally cool push excess heat and humidity up through the spire.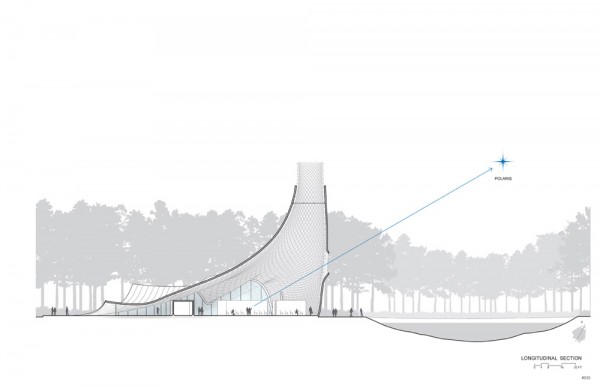 In a nod to the unchanging nature of faith and the cosmos, an oval window is positioned above and behind the altar, and just off to one side, to allow the congregation a clear view of Polaris, the North Star, which never changes its position in the night sky. At other points in the building, windows are aligned to provide sunrise and sunset views of the summer and winter solstices.