The idea behind the World Sustainability Center slated for the Afsluitdijk in the Netherlands is to highlight innovative techniques in the field of water, renewable energy and nature in one innovative, high-profile building — located on a causeway that runs atop an historic dike. According to Bustler, the 20-mile Afsluitdijk has been preventing floods in the North of the Netherlands for 75 years now, forming a border between between the Wadden Sea (now a World Heritage status) and Lake IJssel.
The first place prize was awarded jointly to  "Bilinear" by Stefan Witteman (architect) and his team, Jeroen Grosfeld, Kasper Hauschultz Hansen, from KOW, (The Hague, Netherlands), and "Changing Perspectives" by Peter van der Helm (urban designer) and his team, Vincent van der Meulen, Tomas van der Meer, Anja Muller of Kraaijvanger Urbis (Rotterdam, Netherlands). The first proposal calls for the center to be built into the earth of the dike itself via a series of building, a number of which feature green roofs and look out over the water. The second proposal calls for the center to be spread out over five floating barges that can change their configuration, as the title suggests, or even be pulled up on land, suggesting the changing nature of the relationship between the built environment and the natural world.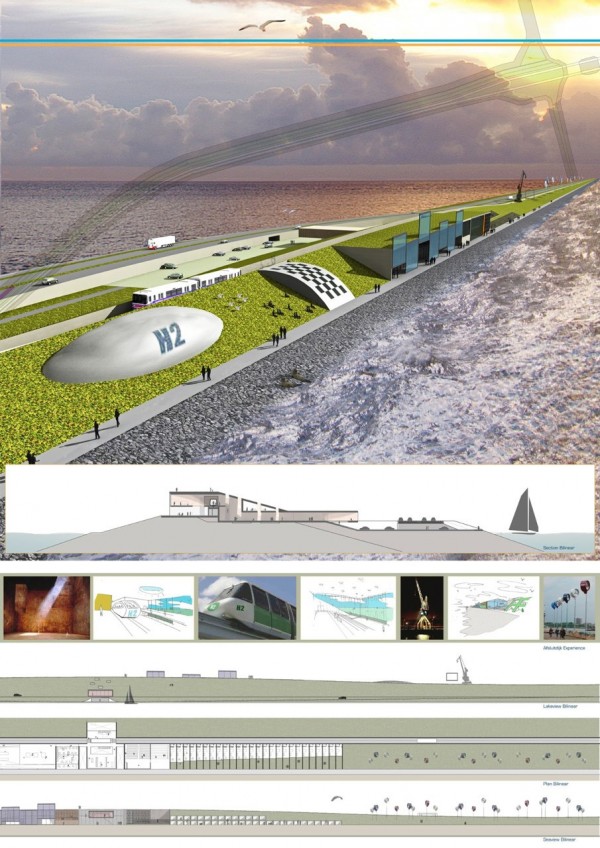 image via Bustler
The goal of the World Sustainability Center is to connect the local and global community in a "progressive arena of emerging technologies and investigations." It was envisioned as a hot spot for educational, corporate and institutional topics on cutting-edge sustainable practices and technologies, all presented in a "park-like" setting near the Wadden Sea.
The design competition for the center opened on Earth Day 2009 and resulted in 80 design proposals, which contained "a wealth of information, inspiring ideas and creative solutions." The jury decided to take the prize money available for the first and second prize and divide it equally between both winners.