Editor's Note: EarthTechling is proud to repost this article courtesy of Natural Resources Defense Council. Author credit goes to Janie Chen.
I'll admit, before joining NRDC, I had no idea what green infrastructure was.  To me, stormwater management was carrying an umbrella, water retention occurred when I ate too many potato chips, and permeable pavement were the potholes I always managed to hit.  When it rained, I assumed water simply flowed into drains, then pipes, and onward to places that were out of sight and out of mind.
In seven short months, I've learned a whole alphabet soup of green infrastructure terms, from CSOs to SRFs and BMPs.  Rainwater doesn't simply disappear into unseen sewer systems.  It hits our overwhelmed and outdated sewers and causes flooding and sewage overflows, as well as washes a toxic brew from our roads, parking lots, and lawns directly into waterways.  According to data compiled by EPA, our nation needs to invest well over $100 billion on water infrastructure just to address the problem of polluted runoff and sewage overflows.
However, at a time when job scarcity continues to haunt the American Dream, it can be difficult to consider government spending on anything other than creating jobs.  That is precisely why it is important that federal funds support green infrastructure (GI) projects across the country.  A recent report from Green for All projects that an investment of $188.4 billion in water infrastructure over the next five years would create close to 1.9 million jobs as well as add $265 billion to the economy.
In 2009, as part of the American Recovery and Reinvestment Act (ARRA), Congress provided $6 billion to "State Revolving Funds" for clean water and drinking water infrastructure, of which at least 20% — $1.2 billion – was targeted for a "Green Project Reserve," to fund green infrastructure, water and energy efficiency, and environmental innovation.  This investment in GI projects not only relieves pressure on existing water infrastructure and helps clean up our waterways but also creates jobs.
Many cities across the U.S. are already leaders in utilizing green infrastructure to address stormwater challenges – often with help from ARRA funding.  As catalogued in NRDC's report Rooftops to Rivers II, many cities now have long-term green infrastructure plans, provide incentives for private green infrastructure projects, require the use of green infrastructure to manage runoff in new development and redevelopment projects, and/or use other approaches to promote smart water solutions like green roofs, green streets, and permeable pavement. These cities recognize that they gain multiple benefits from long term investment in green infrastructure and are eager to employ these techniques to better their communities.
In Seattle — which Rooftops to Rivers showed to be a leader in green infrastructure — $1.5 million of ARRA funding was allocated to retrofit 10 city blocks with a variety of green stormwater infrastructure.  Bioretention swales, rain gardens, and porous concrete will help control about 50,000 gallons of stormwater runoff that currently overflow into the Ship Canal and Salmon Bay, thereby reducing pollutants that threaten the key migration corridor for Chinook salmon and other regionally significant marine life.  This investment in green infrastructure not only directly creates jobs through its construction and planning, but indirectly supports the livelihood of those dependent on Seattle's fishing industry.
In and around Philadelphia — which leads the pack with the most comprehensive green infrastructure program in the nation — nearly $2 million in ARRA funds have supported urban reforestation efforts that help alleviate flooding, manage stormwater, protect clean drinking water, and reduce the urban heat island effect.  With the funding, the Pennsylvania Horticultural Society has planted over 8,000 trees in riparian buffer zones, neighborhood parks, and public streets. Philadelphia considers its green infrastructure efforts part of a broader strategy to provide "more equitable access to healthy neighborhoods" for its residents and make Philadelphia the "greenest city in America."
In  the Indianapolis metro area, the town of Speedway, Indiana is also "taking to the streets" with green infrastructure.  As part of their Main Street project to revitalize the downtown Speedway area, the town utilized $1.7 million of ARRA funding to construct rain gardens, install permeable pavement, and incorporate green gutters along Main Street.  While these green infrastructure elements will help manage stormwater and solve drainage issues, they are also a vital part of creating an aesthetically pleasing location to attract new businesses and encourage economic development.
ARRA funding was also used to support a water re-use system in Syracuse—one of many GI projects in Onondaga County's "Save the Rain" program, which relies on green infrastructure to reduce sewage overflows.  Using $712,500 of ARRA-sponsored funding under New York State's "Green Innovation Grant Program," the Onondaga County War Memorial Arena, home of the Syracuse Crunch hockey team, installed awater re-use system to recapture rain water and snow melt runoff from the roof to use in ice production and maintenance.  Not only does the rain re-use cistern reduce 400,000 gallons of stormwater runoff, it also helps the arena save 127,000-300,000 gallons of water each year.  Another ARRA-funded project in Syracuse is providing rain barrels to homeowners and businesses in the Harbor Brook Sewershed to help capture runoff for use in landscape irrigation – keeping it from triggering sewer overflows into Onondaga Lake.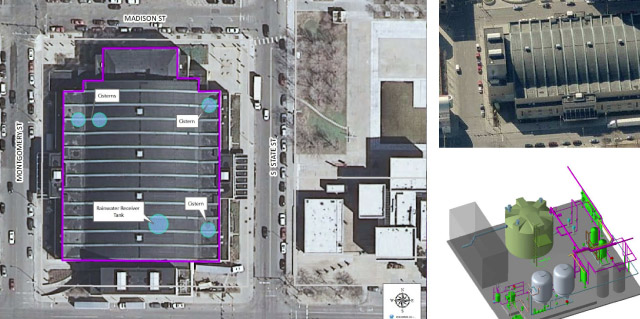 Meanwhile, two green jobs programs in the Syracuse region train unemployed residents in the construction of green infrastructure projects.  Graduates of these green training programs are meeting the increasing demand for green constructions jobs spurred by Onondaga County's green infrastructure projects.  As of 2011, 90% of graduates are now in the work force.
Federal funding can make a significant impact in a community.  Demand for green infrastructure projects is growing as cities realize that they can use State Revolving Funds to create jobs while providing clean water to residents. Unfortunately, these programs have been victims of short-sighted budget cuts in recent years, with both the President and House appropriators proposing cuts to the SRFs for the coming fiscal year.  Specifically, the House Appropriations Committee has proposed to slash the Clean Water SRF by more than half – a cut of nearly $780 million – and reduce the Drinking Water SRF by about $90 million, while the President proposed to cut the Clean Water SRF by about $294 million and the Drinking Water SRF by roughly $69 million.  And that's compared to the still-underfunded current fiscal year (a total of about $2.4 billion for the SRFs), not the amounts in ARRA.
Moreover, Congress apparently has not learned the job-creation lessons of ARRA, as the directive to steer a percentage of funds to environmentally innovative projects like green infrastructure was reduced last year and does not appear in this year's House bill.